Julia
From Life of Onion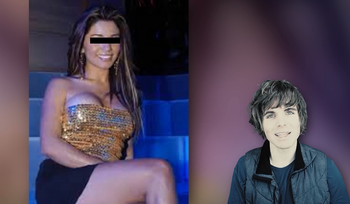 Julia
was Greg's first kiss. He also had his first sexual experience with her. Greg was 11 and Julia was 15. This would have been in 1997. Greg spoke about his experiences with Julia several times over the years.
In 2018, Greg named and modeled a character in his 3rd book, Reaper's Creek, after Julia and wrote about their sexual experiences. This caused some controversy due to their ages.
In 2019, Greg bought a love doll to sell nude photos and videos of and named her Julia Love.
Relationship
Greg says he met Julia at his Father's church and he thought she was gorgeous. When Greg was 10, Julia asked Greg if she could join him in the shower. She said she was kidding and Greg was disappointed.
The next year, when Greg was 11 and Julia was 15, she was his first kiss. He says she told him, "You have the heart of a 15 year old." In 2005, he says, "at the time, and even know, I think it was cheesy, but the truth of the matter is, she meant something more, that I am older in mind than many..."
He says she crawled into his bed at a church retreat cabin filled with other people sleeping. He made out with her and "finger banged" her. They got up early the next morning and did it again. She later said she was ashamed at herself for making-out with an 11-year-old, but he thought it was awesome. ($ource)
Greg says the next year they met in the same cabin and he found out she loved his friend Michael, who was a year younger than Greg. (Source)
In 2005, Greg says they barely talk anymore. "I assume it just reminds her of mistakes, or simply a painful past what with the people I am associated with." (Source)
Reaper's Creek
In 2018, Greg released his 3rd book Repaer's Creek. He released it one chapter at a time as an Onision Patreon exclusive. When he completed writing the book he released it on Amazon for the world to purchase. In the book, the main character Daniel (modeled after Greg) dates Julia (modeled after real life Julia). Many book reviewers expressed discomfort or disgust after reading descriptions of 11 year old Daniel participating in sexual acts with 15 year old Julia.
Greg responded to the complaints in the video "Onision Virgin? (Virginity Explained)", uploaded June 1, 2019. In the video, he explains people are trying to make it look like he wrote a creepy story, but they don't understand what he wrote stories from his actual life. He defends himself by pointing out he heard that there are underage sex scenes in the books "It" and "Game of Thrones". He says if anyone should be called creepy, it would be the girl because she was 4 years older than him. He says he should be considered the victim in the situation by the age perspective, but he doesn't consider himself a victim because it was cool to experience being with somebody more developed than him. He says she got with his friend who was a year younger than him the next year and they "went all the way". He points out she would have been 16 and his friend would have been 11. He says that's crazy. "16 and 11, that's yikes". ($ource)
Julia Love
In June 2019, Greg purchased a silicone love doll (also known as a sex doll) and created an adults only Patreon for her. He named her Julia Love. The doll is assumed to cost around $600 as the two Patreon goals are $600 to buy a second doll and $1,200 to buy a third. Greg offers tiered rewards to those who pay monthly to Julia's Patreon. The lowest being $2 a month for clothed photos of her and the biggest being $30 a month for access to adult only videos and nude photos. (
Source
)
Julia Love Patreon description:
Hi! I'm Julia! I started this patreon to help support my lifestyle and create amazing content for you to enjoy! Thank you so much for supporting me!
Your support means I never have to do anything with my life other than pose for you and tell you I love you so I love you daddy! So much! I love you more than anything because you love me!
The higher your pledge, the more I love you. Please love me as much as possible becuase I really want to love you so much!
On June 21, 2019, Greg explained his new Patreon in an exclusive Onision Patreon post and video titled "I've Officially Gone Too Far...". In the post, he says the Julia Patreon is a parody of women on Patreon, but in the video his explanation is different. In the video, he un-boxes the doll. He explains he's always been jealous of the girls that release "super awesome" photos of themselves, but he didn't want to release photos of himself because people wouldn't want to see him because he's a guy. He says he though about getting a woman to pose for pictures for him, but decided to purchase a doll. He explains he will take professional photos and videos for the doll Patreon and keep himself out of it. He says no one will have sex with the doll. He says this is a billion dollar industry and he's smart for making a Patreon. He also explains he purchased her to model used clothes he was selling on Poshmark. At the end of the video, he decides to name her Julia and comments it's the "creepiest possible name I could give her." (Source)
Later that day, Greg wrote about the Julia Patreon in another Onision Exclusive post. It seems he changed his mind about not being featured on Julia's Patreon and announced there will be adult only Onision comedy videos on the Julia Patreon. (Source) It's speculated he made this change due to the fact only one person joined Julia's Patreon after his announcement.