TV Appearances
From Life of Onion
List of times Greg or his videos have appeared on television.
"Onision has been heavily involved in all aspects of video production since late 2007, since that time he has been seen on MTV's "Ridiculousness", Comedy Central's "Tosh.0", MTV Italy, America's Funniest Home Videos (Oct'12), The Discovery Channel & various news networks." - Onision's About.Me (
Source
)
Self-Submitted Appearances
During the height of his Youtube Career, Greg (or his management) would submit clips and sketch videos he created to various clip reaction television shows such as America's Funniest Home Videos and Tosh.0.
Tosh.0
The first clip show Greg appeared on was Tosh.0. In February 2010, Greg's
Banana Song
video was featured as the Viewer Video of the Week on Tosh.0. (
Source
) This appearance is credited with giving Greg a huge boost in popularity online and helping him reach Youtube fame.
Greg was featured a second time on Tosh.0 on an episode that aired on June 7, 2011. This time, Greg's Banana character interacts with Daniel Tosh and sings a song for a game Daniel Tosh plays with Kate Upton called Knife or Banana. (Source)
America's Funniest Home Videos
In 2012, a clip of Greg dressed as a ladybug falling out of a tree was features on the show America's Funniest Home Videos. The segment the clip was featured in was titled, "A Guy Dressed as a Lady Bug Climbing a Tree." (
Source
)
Ridiculousness
In 2013, the same ladybug clip featured in AFHV was featured in the MTV show Ridiculousness. (Source)
Attempted Appearances
Judge Judy
In 2012, Greg attempted to have himself and ex-fiancée, Shiloh, appear on the show Judge Judy. Greg had given Shiloh money while she was in Canada seeking medical treatment and he was back home in the United States. When Greg found out Shiloh had cheated, he decided to take his case to TV court to get his $2,000 back. Greg made a video announcing he spoke to people at the show and they were interested in his case. (video deleted) After announcing this in a video, Greg announced the show would not take the case since Shiloh was Canadian. (Source)
The Steve Wilkos Show
Youtuber The Amazing Atheist, who was a known critic of Greg's early in his Onision career, made a video revealing Greg invited him to appear on The Steve Wilkos Show. The video has since been removed, but TAA's main point was that Greg was trying to get him to fabricate drama with him.
Greg responded in 2013, saying the show invited him and asked him to talk to TAA. He says TAA "flipped" and made his invite public. He says he lost interest when TAA did not take the opportunity seriously. (Source)
Onision: In Real Life
A three-part docuseries was announced in 2020. It premiered on January 4, 2021 as one of the exclusive launch titles for the Discovery + app. The show is centered around the grooming allegations against Greg. The show features Greg's
Father
, his stepmother,
Shiloh
,
Chris Hansen
,
Eugenia Cooney
, and
Edwins Generation
. A 4th episode was announced for Spring 2021 featuring
Sarah
.
Greg has announced he plans to sue the show. (Source)
ID Channel
A commercial for "Onision: In Real Life" began airing on Discovery's ID channel in late December 2020. The commercial featured Chris Hansen and Shiloh. Text in the commercial reads: "A Youtube star or a Youtube nightmare? I was 17. Performer or predator? Can he be stopped?" (Source)
The show aired on the ID channel beginning on January 15th, making it more accessible to viewers who did not have the Dicovery+ app.
TMZ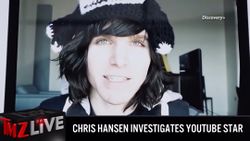 On December 30, 2020, Chris Hansen appeared on TMZ to promote "Onision: In Real Life." The interview featured clips from Greg's videos throughout the years.
Other Appearances
Fox News
Fox News used a clip of Greg, along with various other Youtube clips, in a 2010 segment warning their viewers to be aware of scam artists posing as Haidi charities. Soon after, Greg attempted to start a campaign against Fox News with the video "Fox News Attacks YouTuber: Onision" where he demanded an apology. (video removed) Greg never received an apology from Fox News.