Fox News
From Life of Onion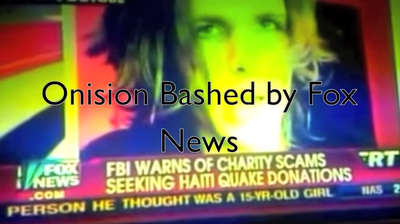 Fox News
is a popular national American News Station.
Onision vs Fox News
On January 12, 2010 the county of Haiti was struck with a devastating Earthquake. The next day, Greg made a video called "Haiti Earthquake" where he encouraged viewers to donate toward victims of the earthquake. ($ource)
Soon after, Fox News ran a report warning viewers of potential scam artists posing as Haidi Earthquake charities. In there segment, they show different clips of YouTubers asking their viewers to donate toward Haiti earthquake victims, one being Greg. (Source) (fox video)
On January 14, 2010 Greg uploaded "Fox News Attacks YouTuber: Onision". In the video, Greg says Fox News "set him up" to appear to be a "potential crook to the entire nation." Greg than demands an apology and demands they play the whole clip where he almost breaks out in tears. Greg says by "crapping" on him, Fox News is crapping on the charity he promoted, therefore they are crapping on the hungry children the charity feeds. "Fox News do what's right. Make it clear exactly who the con is." ($ource)
On April 7, 2012, Greg uploaded "FOX NEWS vs ONISION (Update)". He says a user on his Onision Forum informed him that Fox News is promoting the same charity he promoted in the 2010 video. He says all Fox News had to do to confirm he was not a potential con artist was watch his full video. He warns his viewers that Fox does not do their research. "I was posted on national television as a potential con artist despite there being no evidence whatsoever that that could be ever remotely true." He ends the video by promoting his favorite charities and thanking his fans for supporting him. ($ource)
Other
..