Tosh.0
From Life of Onion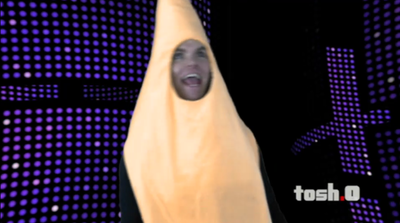 Tosh.0
is an American comedy show where comedian Danial Tosh comments on internet videos and fads. Greg had two video clips appear on this show. Because of this, Greg often will say on his social media that he appeared on the channel Comedy Central. (
Source
)
Video of The Week
In February 2010, Greg's Banana Song video was featured as the Viewer Video of the Week on Tosh.0. (Source) This appearance is credited with giving Greg a huge boost in popularity online and helping him reach Youtube fame.
Greg's ex-fiance, Shiloh, discovered him through this episode on tosh.0.
Knife or Banana
On June 7, 2011, Greg was featured in another episode of tosh.0. This time, his banana character interacts with Daniel Tosh and sings a song for a game Daniel Tosh plays with Kate Upton called Knife or Banana. (Source)
When asked about Daniel Tosh, Greg said he never met him and he used a green screen in the scene where they were talking to each other. (Source)
Today
In a 2016 interview, Greg talked about his experience with tosh.0.
(Editor note: I lost my notes on this so now I have to figure out which interview he talked about this and re-listen to it sorry, I think I remember he complained that they didn't pay him a lot.)