OnisionEncore
From Life of Onion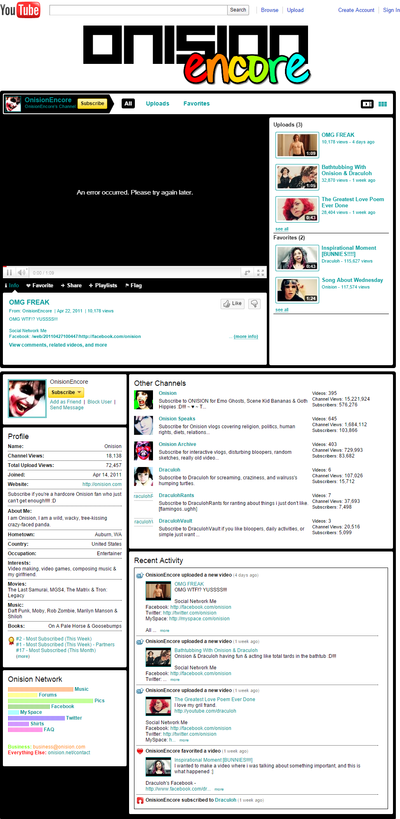 OnisionEncore
, or
Encore
, was a channel Greg created to upload short clips from his life and bloopers from videos. The channel was cleared out of all of videos in 2015 and was later made into a re-upload channel until its closure in 2018.
Original Channel Format
Greg created the Encore channel on April 14, 2011, the same day then girlfriend Shiloh created her DraculohVault channel. Greg advertised Encore on his other channels with: "Subscribe if you're a hardcore Onision fan who just can't get enough!!!! :D" (Source) Greg would use this channel for clips of his home life with Shiloh, short funny videos, and bloopers. About half of these video were deleted and re-uploaded to the OnisionArchive channel in 2014.
Greg kept this format for years. In a 2014 archived version of the channel, it's description read, "The Onision Encore channel presents various behind-the-scenes and daily life videos from Onision. If you're an Onision fan & want to know more about his life, Onision Encore is a great channel to subscribe to."
Video Purge
Sometime in 2015, Greg removed all videos from the channel. He re-uploaded a few videos that were previously there. For example, his "Danging Panda" video was originally uploaded in 2012, but he re-uploaded it in May 2015.
Greg changed the channel description to, "From a dancing panda to image montages of girls who want to fight, OnisionEncore includes both censored and uncensored content derived from OnisionSpeaks, UhOhBro and OnisionArchive. Ready, set... fight!"
New Channel Format
In 2016, Greg began occasionally moving videos from his other channels onto Encore.
In early 2017, Greg began moving some very controversial videos to Encore, hiding them with different names. For example, after his last break-up with Billie he created a series of videos speaking out against her and going into great detail about their private life. He deleted three of these videos and publicly apologized for his behavior. He quietly moved these videos onto Encore as a three part series titles "YouTuber Is TOO Bluntly Honest About Previous Girlfriend".
Greg did something similar after Youtube began demonetizing all videos about YouTuber Eugenia Cooney. Greg removed all 15 videos he made about her and uploaded them onto Encore as a series titled "Please Help This YouTuber Heal". He most likely did not mention her name or the word "anorexia" in the title of his video and the descriptions so the videos would not be automatically demonetized again.
In October 2017, Greg began adding a cartoon drawing of himself boob squeezing to the thumbnail of Encore videos. It seems shortly after this, Greg did not care for the demonetization filter anymore and would use words like "abortion" and "sex" in the titles.
Demise
After using the channel on and off for re-uploaded videos, on September 15, 2018, Greg announced the end of the channel with the video "Goodbye To OnisionEncore". The video was a short video telling fans to go to Onision, Speaks, and UhOhBro. ($ource) This was the same video uploaded to Character Vlogs and OnisionArchive.