James Jackson (Channel)
From Life of Onion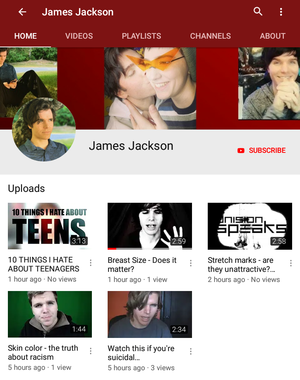 James Jackson
, is a channel created by Greg/James in 2019. (
Source
)
Channel description:
This channel covers topics of mental health, along with comedy and some dark humor. Thank you for watching! We are what we wish to be.
Creation
In May 2019, Greg changed his legal name to James Jackson and began going by "JJ" online. The "James Jackson" channel was created on August 4, 2019. Greg immediately began uploading old deleted videos from his other channels. The channel description suggests the theme of the channel is mental health, but many of the videos are not about mental health.