Crovati (Channel)
From Life of Onion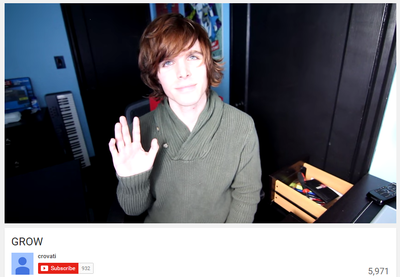 Crovati
was a YouTube channel Greg created to counterpart the website he created with the same name,
Crovati
. The channel was created on May 2, 2012 and only has one video and 900 subscribers. (
Source
)
Grow
Greg uploaded "GROW" to Corvati on June 10, 2012. Ratings and comments are disabled. The video is 12 seconds long and meant to greet viewers of the channel: "Hi. This is my first serious vlog on Crovati. This is also my last serious vlog hopefully ever. Bye." ($ource)
Demise
The Crovati website was abandoned by Greg less than a year after launch. The channel suffered the same fate as well.