Online Forums Biz
From Life of Onion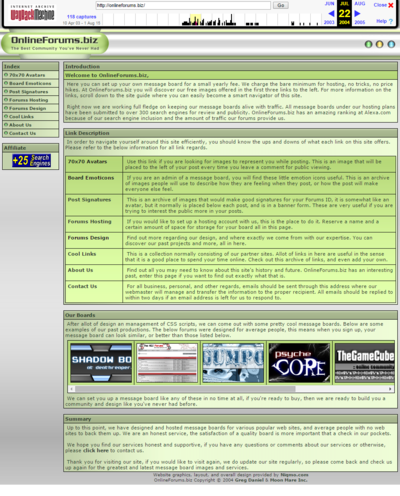 Online Forums Biz
was a forum hosting site created by Greg in 2003.
Site
Greg had many services on the site including forum hosting and design. The site also featured some free features such as an avatar creator and free emoticons and signature banners created by Greg. (Source)
Welcome Message
Welcome to OnlineForums.biz
Here you can set up your own message board for a small yearly fee. We charge the bare minimum for hosting, no tricks no price hikes. At OnlineForums.biz you will discover our free images offered in the first three links to the left. For more information on the links, scroll down to the site guide where you can easily become a smart navigator of this site.
Right now we are working full fledge on keeping our message boards alive with traffic. All message boards under out hosting plans have been submitted to over 300 search engines for review and publicity. OnlineForums.biz has an amazing ranking at Alexa.com because of our search engine inclusion and the amount of traffic our forums provide us.
Similar to his other web hosting sites, Niqmo and Newbies Host, the bottom of each page contained "Copyright © Moon Mare Inc.".
Sub-domains
The site had four sub-domins containing separate forums run by Greg. This included Edge, Shadow, EGHQ, and Metal Gear.
Demise
By 2006, Greg turned the site into a hub for all of his active websites at the time. (Source)