Niqmo
From Life of Onion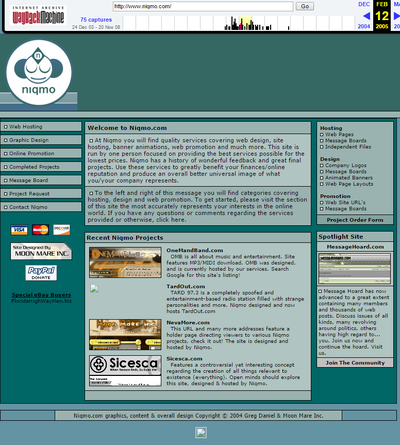 Niqmo
was a web host and web design service run by Greg. It was created in 2003
Site
The site featured many services that could be purchased from Greg including logo designs and animations. Pries for services range from $3 to $30.
2003 Site Intro
Welcome to Niqmo.com,
This site offers top notch hosting, design, and promotion for web sites, sub-domains, message boards, and independent companies looking to find a stronger hold in the online world.
In the past, over 30 original web sites have been built from scratch, 50+ sites have been promoted and listed in search engines from all around the world, and more than 3,000 graphics (both animated and still) have been produced by the creator of Niqmo.com
Quality and care goes in to every development associated with this production and ever customer can be sure that they are getting the best deal available for the services provided.
Please browse around for any subjects you may be interested in. Most every project sent in is observed within 24 hours of submission and, if acceptable, is completed within a week after payment. Not all web sites, graphic requests, message boards, and other files submitted for promotion, design, or hosting will be accepted for coverage by the designer of this site as projects supporting pornography, illegal content, etc. are strictly off limits for review.
If you would like a graphic, web site, message board, or otherwise designed by Niqmo.com - Please keep in mind that original site ideas are mainly the only type acceptable here. For example, sites strictly for profit, will not be considered.
Like Newbies Host, the bottom of each page contained "Copyright © Moon Mare Inc.".
Demise
By late 2006, the site was shut down and the URL was used as a re-direct to the Onision site. It remained that way until Greg no longer owned the domain.