Extreme Gaming Headquarters
From Life of Onion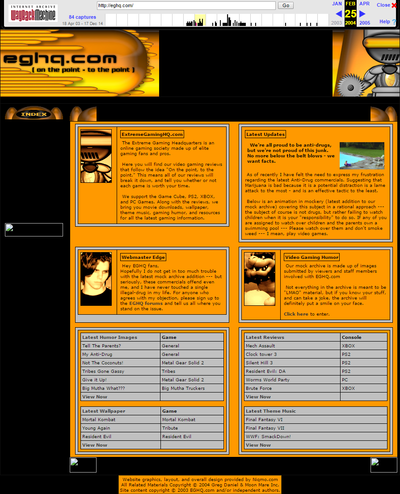 Extreme Gaming Headquarters
, or
EGHQ
, is a website Greg created on April 6th, 2003. He briefly turned it into "Oni Game Reviews". Although the site is gone, he still owns the domain EGHQ.com and currently uses it as a blog.
Site
Extreme Gaming Headquarters was a site Greg created to feature reviews of video games written by him and other staff members.
2004 Welcome Message
The Extreme Gaming Headquarters is an online gaming society made up of elite gaming fans and pros.
Here you will find our video gaming review that follow the idea "On the point, to the point." This means all of our reviews will break it down, and tell you whether or not each game is worth your time.
We support the Game Cube, PS2, XBOX, and PC Games. Along with reviews, we bring you movie downloads, wallpaper, theme music, gaming humor, and resources for all the latest gaming information.
Staff Website
Under the subdomain, staff.EGHQ.com, each staff member of EGHQ had a profile page. The profile contained a picture of each member and personal information like their phone number and location. Including Greg, the site had 11 total staff members. This subdomain's purpose was also to recruit more staff members to the site
Oni Game Reviews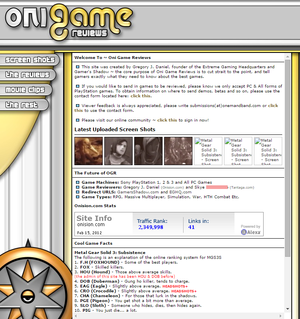 In 2006, it seems Greg decided to go solo and changed EGHQ.com into "Oni Game Reviews". He and
Skye
were the only staff members.
EGHQ v2
By the end of 2006, Extreme Gaming Headquarters made a comeback with a new look. In the "About" page, it is revealed what happened to the site:
Originally EGHQ was known as "The
Gamer's Shadow
" which was established in 2002 by Gregory J. Daniel &
Jad
[...]. After a year passed we moved onto EGHQ where popularity and our staff grew to ten times the amount we had from the beginning, yet losing Jad [...] in the process due to his mission in Japan. After a many unprofessional occurrences within the new-found staff occurred, the co-founder, Gregory J. Daniel relieved every member of their duties, and temporarily shut down the production all together. Within the transitional periods another gaming site was created, the site directly promoted Nintendo Game Cube games, however that site was auctioned off and is now in the power of another party due to loss in interest of the console due to the lack in consistent appeal. After another year passed, a new site was created, first OniGames - which again transformed into EGHQ. Now with new concepts & interests in the gaming world, we are focused entirely on our favorite consoles & company, the Sony PlayStation, PSP, PS2 & PS3.
Greg and Skye were still the only staff members of EGHQ.
Demise
EGHQ stayed afloat until sometime in 2008, when Greg officially shut down Extreme Gaming Headquarters and began EGHQ.com's long journey hosting various Onision related sites. Greg still owns the EGHQ.com domain and it is currently home to a collection of blog posts he's been writing from 2011 to 2014.
Gallery
Images of different phases EGHQ.com went through not already featured on this aritcle.