This Is Why I Hate You
From Life of Onion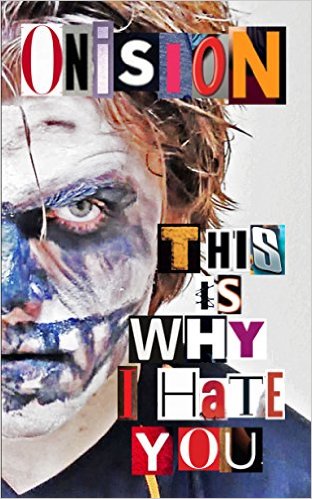 This Is Why I Hate You
is Greg's second self-published book. The book was released on September 11, 2015. Greg listed the book genres as War (fiction), Psychological Thriller, and Psychological (sub category of Mystery/Suspense).
Plot
This Is Why I Hate You is a collection of fictional journal entries kept by 17-year-old Arthur. We follow Arthur though his last year in high school and his time in the US Air Force.
This Is Why takes place in the same universe as Greg's previous book, Stones To Abbigale. Arthur attends Lakewood High in the same time period as James, the protagonist of STA.
Like Stones To Abbigale, many of the events and people in This Is Why I Hate You were inspired by Greg's past. For example, the scene
Book Description
Greg's Amazon book description:
Within these pages wait violent fights, disease, death, controversy, sexuality, tragedy and crime.
This journal documents a hateful young man's path to darkness. Many events that occur are based on real events. You will find many moments from the authors own life sewn into the life of Arthur Gale.
You can only go so far before all hope of return is lost; this book reaches that point, and goes even farther.
James
represented the light, Arthur is the dark. There is no hero. There is only Arthur.
Before Release
On May 22, 2015, Greg announced he figured out the story to his second book, but was debating if he should record another music album or write his second book. (Source) On June 22, he announced he had finished writing his second book. (Source) He also mentioned, like his first book, he would not hire an editor to edit his book. (Soruce)
On August 7, 2015, his book was revealed, "This Is Why I Hate You". He put it up for pre-order on Amazon and announced it will be release on September 11th. He most likely picked that day because of the controversy it would cause as he stirs up controversy every year around September 11th with social media statuses and an annual "9/11 Fail" video series he began in 2013.
Release
As planned, the book was released on September 11th. Similar to Stone's To Abbigale, Greg instructed his followers to leave spam reviews about Aliens around the web and on Amazon. (Source) The book was immediately met with high ratings due to the spam reviews depicting alien sex scenes that never actually occurred in the book.