Hentai
From Life of Onion
Hentai
is a catch-all term to describe a genre of anime and manga pornography.
Greg has a long history with hentai leading up to his 2017 confession to a hentai addiction.
Events
After one of Greg's major break-ups to then girlfriend/fiance Shiloh, it was revealed one of their many minor break ups was initiated by Shiloh. She broke up with Greg for watching hentai. (This would have happened in 2011.) (Source)
Greg's relationship ended with Shiloh in early 2012. Soon after he began a relationship with now wife Lainey.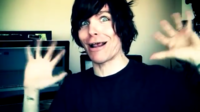 In the 2012 video "Boyfriends Who Look At Hentai Pics & Freedom", Greg says a troll posted to his
forum
asking for advice about a hentai addiction. He says they were really talking about to his past with hentai. He says his ex would not allow him to masturbate to hentai because she was insecure. He says nothing is wrong with hentai because is just a cartoon, no one is a victim. He brings up in the past he said masturbating to porn was cheating. He says his opinions then were based on his controlling relationship at the time. He makes a joking analogy that he was a flower and his ex's insecurity was weeds at the base of his flower and h couldn't grow. His opinion is you can't cheat with something that isn't real. Fantasies about having sex with cartoons or real people are not cheating. He yells, "I finally cAN SAY WHAT I WAAANT! NOW THAT I'M NOT IN A SHITTY RELATIONSHIP!". He says his true opinion is you should be able to masturbate to whatever you want as long as it's not illegal and your significant other isn't bothered by it. He says there's a problem if you're masturbating to something when your significant other is in the house with you and able to have sex. He says it's an issue if you prioritizing pornography over your lover. He says if your significant other oppresses you and does not allow you to masturbate even when they are not able to have sex, then they are killing the relationship because they are controlling and making you miserable. "LET EVERYBODY BE WHO THEY WANT TO BE!" He says he's been in relationships that were no compatible with him "Why are you drinking? Why are you smoking? Why are you doing drugs?" He shouldn't have been in the relationship because he shouldn't have to change them to make it work. (
$ource
)
Greg would occasionally talk about hentai as well as its impact on his past relationship for years. For example, in his July 2017 interview with The Drunken Peasants, he brought up Shiloh breaking up with him over "cartoon porn uh hentai porn" while going through reasons why she was an unstable and untrustworthy person. He said it was Dead or Alive porn. (Source)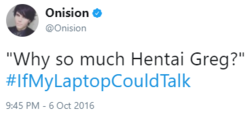 A few months after the interview, on October 2, 2017, Greg uploaded the video "I Will NEVER Delete This Video (Confessing My Addiction)". He starts the video by saying he thinks it will help a lot of people. He says you can become addicted to anything like pot, Doritos or Pepsi. He explains if you're addicted to something and it's affecting your ability to function and your financial stability you should promise people you will solve the problem instead of keeping it a secret. He says he has had an issue with hentai like
Harley Quinn
and Quiet from
Metal Gear Solid
. He says it's become an addiction to him. He said recently he told people in his life about the addiction and since then (3 days) he hasn't had a problem with it. He says he was able to "kick it" because he finally admitted he had a problem. It was too time consuming for him, it was taking away time from making videos and time from his life. He says he admitted something humiliating because it's prideful and respectful about someone admitting they have a problem. He encourages his audience to make a video or to tell a loved one about their addiction if they really want to kick it because when you admit you have a problem you are now carrying the weight of their expectations, you now have people to let down. He says he will still look at pictures of naked women, but he won't let it consume his life. He says even though his addiction never prevented him from uploading videos every day on schedule, it did cause him to have less time with his
significant other
and with "the stuff in life that is things I need to partake in to be a healthy human being". (
$ource
)