Gamer's Shadow
From Life of Onion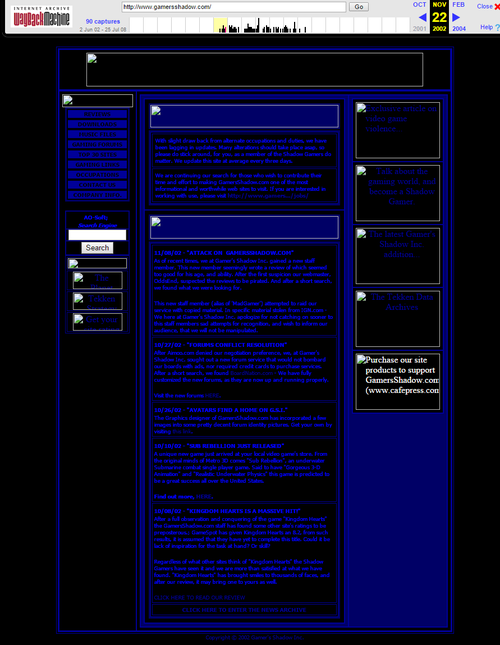 Gamer's Shadow
was a video game review site Greg and his friend,
Jad
, created in 2002. (
Source
) It closed down in 2003. The site can still be viewed through the
Wayback Machine
.
Site
On the original "about" page, it is revealed two people came up with the site together. On the contact page, it says Jad is the owner of the site and Oddikaun (Greg) is the webmaster. The site included game reviews, wallpapers, downloadable music, and forums. Sometime during the site's existance Greg changed his username from Oddikaun to OddsEnd.
The site went through many layout changes throughout the course of its life. The site also received some other staff members to write articles and reviews.
Gamer's Shadow sold merchandise though Cafe Press under the name "Video Game Stuff". (Source)
Gamer's Shadow went through a few forum changes due to disagreements with forum services.
Drama
There seemed to be a bit of drama on the site, which sometimes was explained on the home page updates. One such drama was reported on September 10, 2002. The title of the update was "GAINING MORALS ELIMINATING WASTE". The update explained that there had been "a couple of low life's" on the forums mocking and attacking the members of Gamer's Shadow. An ex-staff member joined in and attacked the web master's (Greg's) integrity. These members were banned from the site. "As we have shit of contact from both negative sources, the Shadow Gamers and GamersShadow.com are in full force again. Though some burdens are still to be place upon the shoulders of Gamer's Shadow Inc. from the memory of such occasions and more to most likely soon come." (Source)
Another incident was reported on November 8, 2002. The update title was "ATTACK ON GAMERSSHADOW.COM". It explained that the new staff member, MadGamer, wrote a suspicious review that seemed to be written too well for his age. The webmaster, OddsEnd (Greg), became suspicious and after searching the web, discovered the article was plagiarized from IGN. The update statues "MadGamer attempted to raid out service with copied material". The update ends with Gamer's Shadow informing its audience it will not be manipulated. (Update can be seen in the screen shot to the right.)
Demise
By the middle of 2003, the site shut down and became a re-direct to The Shadow Boards, which may have originally been Gamer's Shadow's forum at the end of its life. Greg seemed to own the domain all the way up until November 2007. Throughout the rest of its life, it became a re-direct to various short lived websites Greg owned. (Source)