The Biersacks
Jump to navigation
Jump to search
Smurf Says...


Warning! This page is not complete. There will be information and sources missing.
The Biersacks is a family Greg had a relationship with, mainly Chris Biersack and his son Andy Birsack, who is the singer of the alternative band Black Veil Brides.
Beginning
In 2013 Greg uploaded two Toast videos to his Speaks channel. "BLACK VEIL BRIDES TOAST" on Aug 19, 2013 ($ource) and "ANDY SIXX TOAST" on October 29, 2013 ($ource).
According to Chris Biersack, he and Andy previously watched Greg's videos and enjoyed theses toast videos.
Randomly in a January 2014 video, Greg showed a short twitter conversation between him and Chris Biersack. (Source) He says Chris and Andy told him they watch his videos and Chris shares Greg's videos on his twitter. ($ource)
Fanboy Behavior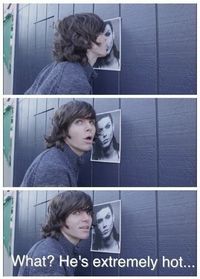 For years, Greg would make over the top obsessive videos and social media posts talking about how attractive Andy is.
There were mixed reactions to these types of videos and social media statuses. Many fans of BVB and Onision took them seriously and believed Greg had a fanboy crush on Andy while many critics believed Greg only pretended to be a fanboy to gain views and subscribers from the BVB fanbase. Others, including Chris and Andy, believed this behavior was all satire on Greg's part, poking fun of fan culture.
Greg never quite explained his over the top behavior, but has explained his attraction to Andy by saying he is attracted to feminine men. (Source)
A good number of Onision / BVB fans began shipping Andy and Greg under the name Grandy. (Source)
Meet Ups
AndyGregInsta.jpg
Chris Biersack
Chris became a huge dedicated Banana. He constantly praised and defended Greg on twitter and would show off an Onision shirt he purchased.
On May 20, 2016, Chris uploaded an interview he did with Greg on his podcast. (Source) The interview received thousands of listens. (Source)
The interview has since been deleted by Chris (see below), but can still be heard here.
Downfall
On June 1, 2016 Greg uploaded "Andy Biersack Drama" to his UhOhBro channel. In the video, Greg shows clips of Andy yelling at hecklers at his shows and criticizes him ($ource)
The next day, Chris took to Twitter to express how upset he was with a "certain Youtuber" for bringing up old drama about Andy and misrepresenting what had happened. (Source) He says this person doesn't value friendship and that he was in it for the views. (Source) Chris unfollowed Greg on twitter and deleted his podcast interview with Greg from SoundCloud and iTunes.
At the end of Chris' next podcast, he went on a long rant about Greg. During the rant, he reveals some odd things about Greg like how whenever he was invited to a Black Veil Brides show, he would only record his video and talk to Andy, then leave. He never stayed to watch Andy perform. Chris also mentions his wife always hated Greg and would have to leave the room when he was watching one of his videos.
Chris also defends Andy in the clips Greg showed in his videos by saying Andy was calling out people that were pushing fans or causing a disturbance, but in these clips we only get to see Andy's reaction, not what he was reacting to. He says after Andy would stop the show and stand up for his fans, (Source)
By June 13, Chris and Greg seemed to be back on good terms as Chris had an upbeat twitter conversation with Greg and was following him again on twitter. (Source)
On June 24th, Greg found out Andy was performing in Seattle and pointed out on twitter he did not receive an invite this time. Andy replied he could come, but Greg brushed him off saying he has plans with his wife Lainey. (Source)
In the July 10, 2016 video "#GrowingUpGay", Greg briefly talks about why he talks about being attracted to Jensen Ackles now instead of Andy. He says he is not sure why he is not attracted to Andy anymore. He sarcastically speculates it could be because Andy didn't invite him to his last show until it was too late or if it was because Chris DMed him with a "very heavy censorship vibe" and shows on screen a message send by Chris: "I just wanted to communicate with you, directly, about this. You've heard me. I've head you. We're good." Greg says he feelt like Chris was telling him he was only allowed to say positive things about Andy. He jokes that their relationship is falling apart. ($ource)
Notes
Greg has uploaded over 20 videos about Andy and/or Black Veil Brides since 2013. (Source)