Onision Games
From Life of Onion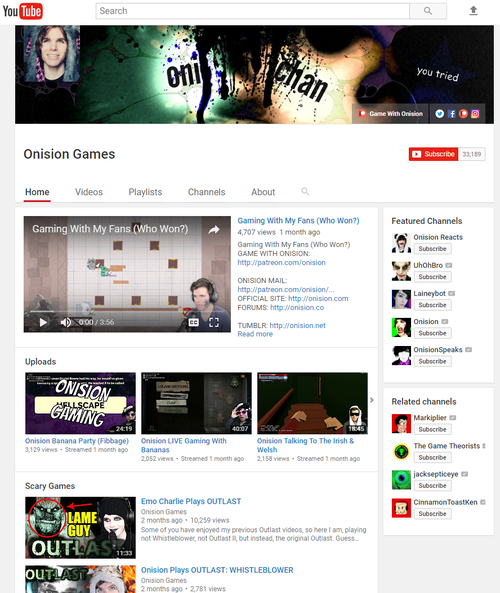 Onision Channel
is a channel Greg created in 2017. This channel was re-branded many times. Previous names for this channel were
Oni Chan
(not to be confused with the channel
Onichan
),
Onision Games
, and
VR Box
. (
$ource
)
In 2021, Greg accidentally changed the channel name to Nani Chun.
Original Channel description:
Onision's Gaming Channel
- Live streaming.
- Talking directly to fans through patreon.com/onision
- Funny gaming moments.
Creation
Greg created the channels Oni Chan and Onion Son on May 17, 2017. In the video "I'm Deleting Two of My YouTube Channels", Greg explains he figured out why his channels were dying, so he created two new channels and planned to delete two of his channels in 2018. He explained Oni Chan (he did not mention it by name) was for migrating old gaming videos and for new gaming videos. ($ource)
Soon after its creation, Greg re-named the channel to Onision Games.
For the next couple years the channel was used to archive and to host livestreams of Greg of chatting and/or playing games with his Patreons as well as for re-uploads of old gaming videos.
Re-Branding
In August 2019, Greg wiped the channel of all videos and re-named the channel "VR Box". He did not upload to this channel during this time.
A few months later, Greg re-named the channel "Onision Channel" and used the channel to re-upload old videos until he stopped in November 2020.
Current Channel description:
The Onision channel is all about having fun. Please enjoy my funny videos!
Nani Chun
On October 27, 2021, YouTubers who made videos about the grooming allegations against Greg received an email from "Nani Chun", who defended Greg from the allegations and pleaded for the YouTubers to do the right thing. Three of these Youtubers posted screen shots of them emails to Twitter and expressed they believed Nani Chun to be Greg using a sockpuppet account.
It was soon discovered that the "Onision Channel" was renamed to "Nani Chun", revealing Nani Chun was actually Greg. (Source) It is believed Greg changed one of his Google account names to Nani Chun, not realizing this account was connected to one of his abandoned YouTube channels. The channel remains named "Nani Chun" to this day.