LOL BE MAD
From Life of Onion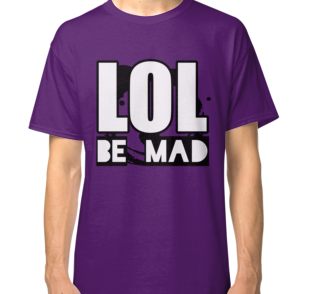 LOL BE MAD
is a catchphrase originated by Greg and
Kai
's ex
Billie
.
**During the events in this article, Kai went by the nicknames "Lainey" or "Lain" and did not yet identify as a trans man. The writing in this article will reflect Kai's current name and pronouns, but images, quotes, and videos will not.
Origin
During a January 2017 twitter fight between himself and his ex Billie, Greg tweeted "Some of the most beautiful people on the outside are the ugliest on the inside." He included two screen shots of a text conversation he had with Billie where he confronted Billie for "betraying" himself and Kai. Billie responded "LOL" "BE MAD". (Source)
The next day, Greg uploaded the video "It's Over, I'm Done, Bye", which he quickly renamed "(1) You Lied Again (2) You Committed A Crime Again (3) You Got Dumped Again (4) Bye Forever". In the video, Greg goes into detail on instances he believes Billie betrayed himself and his spouse Kai and about how immoral he believes Billie and her friend Ayalla to be. During the video, he reads the "LOL BE MAD" texts and refers to them as "Billie's sadistic texts." He says she later apologized for saying "LOL BE MAD." Toward the end of the video, Greg proclaims Billie never said his breakup videos about her were untrue because "when you get Onision, you get the truth." He says he hopes Billie and her friend Ayalla end up with each other because they're equally evil. He ends the video by saying "lol be mad". (Source)
Later that month, Greg again tweeted the photo of the "LOL BE MAD" text conversation, this time with the caption, "The moment I start to feel down, I just look up the old texts to remind myself how I was treated... and then I feel better again." (Source)
Use
"LOL BE MAD" ironically became a catchphrase for both anti and pro Onision followers. Anti-Onisions saw it as a defiance of Greg's manipulation and a "trigger" for him. Greg and his fans saw it as the last "fuck you" to Billie and Ayalla at the end of his brutally honest video.
On July 26, 2018, Greg announced on twitter new Onision merch that included a "LOL BE MAD" shirt. He explains it's a bonus shirt that was discussed on his Discord. He included a message from a fan requesting "LOL BE MAD" merch. (Source)
On September 14, 2019, Billie created a twitter account to talk about her experience with Greg and Kai after other exes of theirs had come out. The name of the account was "lolbemad". (Source)